How to Publish Your App on Play Store and App Store?
2021 Detailed Guide
Google Play Store and Apple App Store are the two largest app publishing platforms to publish your mobile app and reach target audiences.
All mobile applications should meet the requirements of the platform to smoothen the app publishing process. Otherwise, the app can have a high chance of rejection.
To avoid rejection, built your mobile app with the store requirements. Here are some points to check before publishing your app.
Checklist to Publish Your Mobile App on Play Store or App Store:
Provide a unique name to your application to draw the audience attention

New mobile app users do not know your app's purpose. Explain the app details like app purpose, how to use the app, app model, etc., in the description section.

Take app screenshots or pictures to post in the store, so that the users can have a quick view of the app.

The app should contain the app owner's app and contact information to receive the user feedback or report.

Publish your app in the right category. The wrong category will lead to app rejection or low traffic.

Keywords are a must to take place in user search results.

Rating must be displayed to encourage more new users to download the app.

Other details like privacy policy and disclosure are mentioned to increase app security.

Provide a test account of the app for the review team to finish the process easily.
How Long It Take to Publish Your App on Play/App Store?
Publishing your mobile app within a minute is not a possible thing. At the same time, it doesn't take much time to complete the process.
App owners should have either an individual account or business account (if it is a start-up or business) on Play Store and App Store to publish the app.
To register your account on Play Store costs you around $25 and $99 on App Store as a yearly fee. Once payment is done and the app is submitted on these platforms, it will be reviewed. If your submission is incomplete, it may delay the publishing process or get rejected. Check your app twice before submitting and if the submission is successful, your app will be published within 1-2 business days. Holidays and weekends can also delay the process.
You can able to track the app submission process – Check iTunes App Connect for the iOS app and Google Play Console for the Android application.
Top Reasons for App Rejection:
Check the following reasons and solve the issues for quick app approval:
1. Incomplete or Irrelevant Content:
Play Store or App Store doesn't approve apps that are still in the development stage. All texts, images, or videos are to be uploaded and the development process should be completed.
If the app contains irrelevant images or words to the app, it will be rejected.
2. Having Bugs:
App testing should be done before submitting to the platform. Apps that are having bugs can be hold by the App Store.
3. Inactive Links:
If any links in the app are not opened or navigated, it will be a reason for rejecting the app. The app should contain a proper link for contact information and customer support which is also taken into a consideration.
4. Less Interactive UI:
UI (User-Interface) is everything to an app. It is the place where the app users interact with the application and it should be user-friendly, interactive, and easy to use.
Best apps are recommended in Play Store and App Store and less or no interactive apps are automatically rejected in these platforms.
5. Low Purpose App:
If the app provides less features or purposes and doesn't offer the exact value, it will be hold. Also, if the app is aiming for low market traffic, it can't be published.
6. Improper Details:
New users consider downloading your app after checking the title, description, app photos, and customer reviews. If these details are not given properly, they may be rejected or the app does not get download rates.
7. Display Ads:
Displaying advertisements is one of the app monetizing ways. Make sure that the ads are properly displayed in all app devices irrespective of screen size. Also, the irrelevant ad category of the app is eliminated.
8. Two Apps:
If you are planning to publish two apps, then they should be unique and does not look similar. This will be taken into rejection. To solve this issue, the features of two apps can be merged into a single application.
Common Mobile App Rejection Reasons by Google Play Store:
Harassment speech or hate words

Adult Contents, especially in Kids category app

Sensitive references like death, disaster, etc.,

Encouraging illegal activities.
Avoid these issues in your mobile app to publish your app on Play Store and App Store.
How to Publish Your Android App on Play Store?
Google Play Store is becoming a prior and huge platform to publish any kind of Android apps. Here are the steps to publish your App on the Play Store:
1. Google Developer Account:
It is a must to create a Google Developer Account to publish the app on Play Store. This platform costs you a one-time payment of $25 to register the account
After payment is done, enter all the information asked in the form. These details can be later viewed by the app users who are searching for the app owner's detail or contact information.
2. Publish Your App to Play Store:
Play Store is an Android app library where the users search an app by a category, directly typing the app name, or on the home feed.
When a user lands on your app page, he/she can decide whether the app is suitable in just a few minutes. It can be decided by looking at the app's description, uses, rating, and image screenshots. Fill in all these details. Make sure that your app is appealing on first look and increase download rates. Enrich your brand with the right graphics and quality features.
The app should be in .apk (Android Package Kit) format. Once filled in the details, you can submit the app and wait for the approval. As said above, if your app meets the Play Store requirements, it will be published successfully in a day or two. Track your app submission process with Google Play Console. Wait for few hours to see your app on Play Store.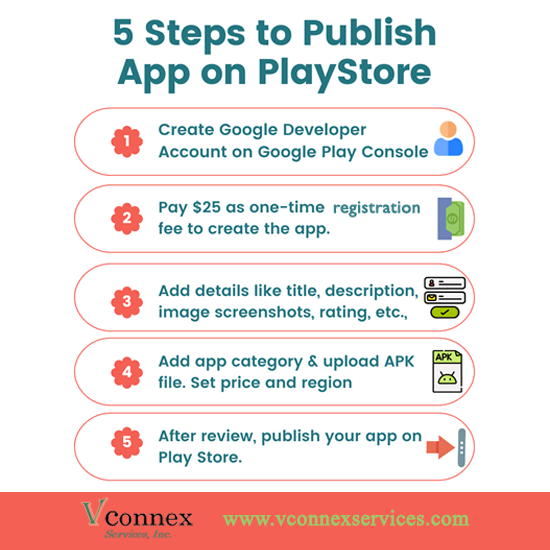 How to Publish Your iOS App on App Store?
The process of submitting the iOS app on the App Store is quite complex than Play Store, but it is possible to complete it successfully.
2 million mobile apps are hosted on App Store and only high-quality applications are placed on this platform
1. Apple Developer Account:
Similar to Play Store, you need to create an Apple Developer account to publish the iOS app on App Store. It charges $99 as a yearly fee to register your account.
2. Submit App on App Store:
It is advised to read Review Guidelines by Apple Store before doing submission. Before releasing each app, the Apple team will check the app from scratch and major apps are rejected as it is not satisfied the review guidelines.
After updating the app with Apple Store guidelines, it is time to fill in information like app title (name), description, metadata (app category, app details), icons preview, or image screenshots as mentioned in the above Play Store process
The first three description lines should encourage the user to use the app without tapping read more in the description section. After completing the form, submit it to App Store. Apple takes few days to review and publish the application on App Store. It will inform you once the app is placed in the Store. Track the process.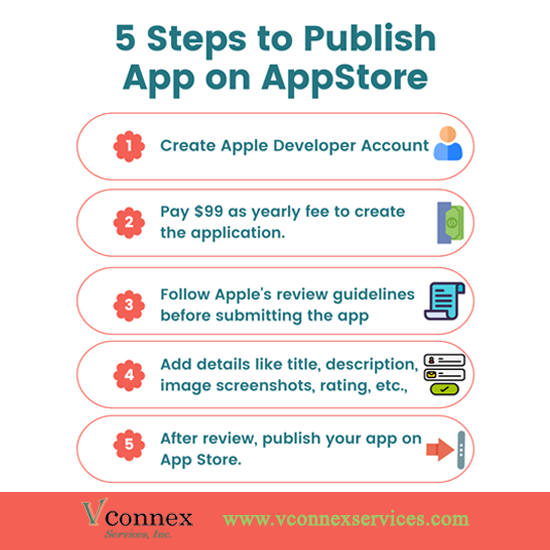 If you are reading this article, then you are planning to publish your mobile app to the public.
Follow these steps to turn your dream app into reality. If you are facing any issues while publishing or developing your app, we are here to help you.
Get a free quote to talk with Vconnex experienced mobile app developers and get an accurate solution in a day. Contact us!